Potentilla nepalensis 'Miss Wilmott'
cinquefoil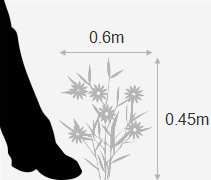 Position:
full sun
Soil:
poor to moderately fertile, well-drained soil
Rate of growth:
average
Flowering period:
June to August
Flower colour:
raspberry pink
Other features:
hairy, mid green, strawberry-like leaves
Hardiness:
fully hardy

Splendid sprays of raspberry pink flowers with cherry red centres from June to August and hairy, strawberry-like leaves. This charming, Himalayan cinquefoil is perfect for the front of an herbaceous or cottage style border. An easy to grow plant for a sunny, well-drained site, it will reliably produce seedlings that are "true to type".


Garden care:
Lift and divide large clumps in autumn or spring. Apply a generous 5-7cm (2-3in) mulch of well-rotted compost or manure around the base of the plant in spring.


Mediterranean gardens can take on various guises from the rustic and rambling to the formal elegance of an Italian courtyard. However, they all have key features in common, including the use of exotic, sometimes tender, drought-tolerant plants in pots and...
Read full article