Gladiolus murielae
Abyssinian gladiolus (syn acidanthera or callianthus) bulbs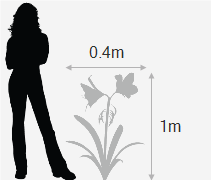 Position: full sun
Soil: moist, well-drained soil
Rate of growth: average
Flowering period: Augsut to October
Hardiness: frost tender


Bulb Size: 6-8cm

Delightlful spikes of nodding, funnel-shaped, highly fragrant white flowers, with a prominent burgundy blotch at the base of each petal, seem to dance on the breeze at the ends of their slender stems from late summer. It is a delightfully elegant plant that is ideal for adding movement to a sunny border. Plant it in clumps throughout the beds, or pot them up and keep them on the patio next to a seating area or often-used pathway, where you will be sure to make the most of the heady scent.


Garden care: Plant corms 10-16cm (4-6in) deep in spring, on a bed of sharp sand to aid drainage. In frost-prone areas, lift them when the leaves turn yellow-brown, dip the corms in fungicide and store in a dry, frost-free place over winter.


Bulbs are ideal for anyone who rates themselves as 'keen-but-clueless' because they are one of the easiest plants to grow. Provided you plant them at the right time of year at more or less the right depth, they will reward...
Read full article