Clematis cirrhosa var. balearica
fern-leaved clematis (group 1)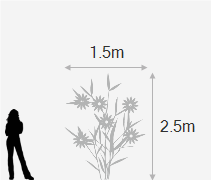 Position: full sun or partial shade
Soil: fertile, well-drained, neutral soil
Rate of growth: average to fast-growing
Flowering period: December to February
Flower colour: creamy-white
Other features: bronze-tinted evergreen leaves
Hardiness: borderline hardy (may need winter protection)

Fragrant, creamy-white winter flowers speckled inside with reddish-maroon 'freckles' and bronze-tinted evergreen leaves. Probably the best way to appreciate the distinctive freckle-like markings and delicate scent of this winter-flowering clematis is to train it over a sunny pergola, doorway or arch. Frost hardy, it may not survive severe winters.


Garden care: No routine pruning is necessary. If the spread of the plant needs to be restricted prune immediately after flowering, cutting back overlong shoots to healthy buds. Apply a slow-release balanced fertiliser and a mulch of well-rotted garden compost around the base of the plant in early spring.


Do you want to ask a question about this?
If so, click on the button and fill in the box below. We will post the question on the website, together with your alias (bunnykins, digger1, plantdotty etc etc) and where you are from (Sunningdale/Glasgow etc). We'll also post the answer to your question!
4 Questions | 4 Answers
Displaying questions 1-4
Displaying questions 1-4