Anemanthele lessoniana
pheasant's tail grass (syn. Stipa arundinacea )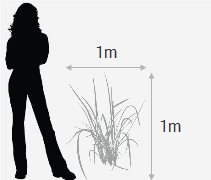 The tightly tufted New Zealand wind grass plays in the breeze like a fibre-optic lamp and the flowerheads swoon as they collect the morning dew


Position: full sun or partial shade
Soil: moderately fertile, medium to light, well-drained soil
Rate of growth: fast-growing
Flowering period: June to September
Hardiness: frost hardy (needs winter protection)

One of the best and most versatile evergreen grasses, this will thrive in sun or shade, and glows shades of copper, gold and bronze in the autumn, hence its common name, Pheasant's Tail Grass. It has a soft, arching habit, so plant it among shrubs for textural contrast, or in a mixed or herbaceous border.


Garden care: In spring, tease out dead foliage by gently running your fingers through it as if it were hair. It may self-seed, but simply pull out seedlings when you see them.


Do you want to ask a question about this?
If so, click on the button and fill in the box below. We will post the question on the website, together with your alias (bunnykins, digger1, plantdotty etc etc) and where you are from (Sunningdale/Glasgow etc). We'll also post the answer to your question!
4 Questions | 4 Answers
Displaying questions 1-4
Q:

Hi. Would this be suitable for growing in a container on a balcony. The balcony is south facing, open and can get pretty windy. Alternatively can you suggest something similar that might be suitable? It would need to be suitable for container growing, full sun and wind. I'm looking for something that will grow quite tall and not shed lots of leaves etc so I thought an ornamental grass might be a good idea.

Asked on 5/17/2014 by BalconyGardener from yorkshire

1 answer

A:

Hello there

This grass is one of the best for tolerating windy conditions, and it likes sun so it should be fine.

Hope this helps.

Answered on 5/20/2014 by Anonymous from crocus

Q:

I've got three Anemanthele lessoniana interplanting a Mahonia Winter Sun and a couple of Rosa Tuscany Superb. This is the borders second season and the roses and mahonia are being swamped by the grass. The mahonia will pull through and shortly outstrip the grass plants but I fear the roses won't. Can you recommend an alternative grass of similar habit and colours but of smaller stature that might be used instead of the pheasant's tail?

Asked on 8/9/2013 by Andy from Crewe area

1 answer

Q:

2006 Planting Chelsea Flower Show enquiry

Hi, I see you have plants available for the current show, but do you have a plant list for the 2006 award winner (Daily Telegraph,Tom Stuart Smith) available as I am interested in buying some of these plants? Thank you for your time, Kelly

Asked on 4/5/2010 by kelly mackenzie

1 answer

A:

Hello Kelly, He did use a lot of plants in his garden - here is a list which includes most. Allium Purple Sensation Anthriscus Ravens Wing Aquilegia Ruby Port Astrantia Claret Carex testacea Cirsium rivulare atropurpureum Dahlia Dark Desire Euphorbia Fireglow Geranium Lily Lovell Geranium phaeum Samobor Geranium Phillipe Valpelle Geranium psilostemmon Geum Princess Juliana Gillenia trifoliata Hakonechloa macra Iris Dusky Challenger Iris Dutch Chocolate Iris Sultan's Palace Iris Superstition Iris Supreme Sultan Knautia macedonica Lavandula angustifolia Nepeta subsessilis Washfield Nepeta Walkers low Purple fennel - Giant Bronze Rodgersia pinnata Superba Rodgersia podophylla Salvia Mainacht Sedum matrona Stachys byzantina Stipa arundinacea (syn.Anemanthele lessoniana) Stipa gigantea Tulip Abu Hassan Tulip Ballerina Tulip Queen of Night Verbascum Helen Johnston I hope this helps. Helen Plant Doctor

Answered on 4/6/2010 by Crocus Helpdesk

Q:

Trimming Anemanthele lessoniana

Hi, Could you tell me if and when I should trim Anemanthele lessoniana (pheasant tail grass)? Regards Nigel.

Asked on 2/15/2010 by Nigel Grange

1 answer

A:

Hello Nigel, In spring, you can tease out any dead foliage in your Anemanthele by gently running your fingers through it as if it were hair. I hope this helps. Helen Plant Doctor

Answered on 2/15/2010 by Crocus Helpdesk
Displaying questions 1-4

Hardy euphorbias, commonly known as spurges, make ideal plants for any gardener who rates themself as 'keen but clueless', yet a little bit adventurous. First and foremost they are excellent garden plants that can be used in the border and in containers,
Read full article
As the days shorten, the autumn sun sinks a little lower every day and begins to backlight the borders, picking up detail and silhouette. There's plenty to enjoy,- seed heads, in autumnal shades of brown and silver take centre stage, often lasting until m
Read full article