Agrostemma githago
corn cockle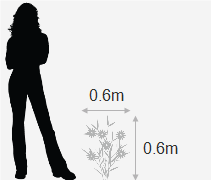 Position: full sun
Soil: well-drained, preferably poor soil
Rate of growth: average
Flower colour: magenta-purple
Other features: lance-shaped, grey-green leaves
Hardiness: fully hardy

A beautiful, magenta-purple annual wildflower, once a common sight in cornfields. This summer-flowering corn cockle is perfect for naturalising in a sunny wildflower or cottage garden. Performing best in poor, well-drained soil, the flowers are highly attractive to bees.


Garden care: When sowing seeds do not use a fertiliser since wildflowers prefer poor soils. Deadhead regularly to prolong flowering. In autumn cut the faded flowerheads down to the ground and compost the dead stems.




Sow: March-October or September-October


Flowering: August-Septemebr or May-July


Approximate quantity: 90 seeds.



There's nothing like a lawn to bring the various elements of a garden together as it's easy on the eye and helps highlight other more ornamental features. Best of all, it adds much needed space to the garden and provides evergreen continuity too. But a la
Read full article