Tulipa 'Abu Hassan'
triumph tulip bulbs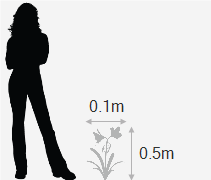 An April-flowering Triumph tulip with glowing terracotta-to-chestnut flowers lightened by glittering golden edges. Stately in form and name - the ultimate accessory for warmly toned wallflowers.



Position: full sun
Soil: fertile, well-drained soil
Rate of growth: average
Flowering period: Apr-May
Flower colour: warm red with a yellow trim
Other features: excellent cut-flowers
Hardiness: fully hardy
Bulb size: 11/12

The rich, warm tones of this glorious tulip won't fail to delight. The goblet shaped flowers have mahogany-red petals each with a buttercup-yellow feathered edge. These bulbs are perfect for 'bruised' toned borders and compliment rich plums and deep purples.


Garden care: In September to December plant bulbs 15-20cm deep and 10-15cm apart in fertile, well-drained soil. Alternatively, allow 7-9 bulbs per 30cm sq. After flowering dead-head and apply a balanced liquid fertiliser each week for the first month. Once the foliage has died down naturally lift the bulbs and store in a cool greenhouse.

Harmful if eaten/may cause skin allergy
Do you want to ask a question about this?
If so, click on the button and fill in the box below. We will post the question on the website, together with your alias (bunnykins, digger1, plantdotty etc etc) and where you are from (Sunningdale/Glasgow etc). We'll also post the answer to your question!
2 Questions | 2 Answers
Displaying questions 1-2
Q:

2006 Planting Chelsea Flower Show enquiry

Hi, I see you have plants available for the current show, but do you have a plant list for the 2006 award winner (Daily Telegraph,Tom Stuart Smith) available as I am interested in buying some of these plants? Thank you for your time, Kelly

Asked on 4/5/2010 by kelly mackenzie

1 answer

A:

Hello Kelly, He did use a lot of plants in his garden - here is a list which includes most. Allium Purple Sensation Anthriscus Ravens Wing Aquilegia Ruby Port Astrantia Claret Carex testacea Cirsium rivulare atropurpureum Dahlia Dark Desire Euphorbia Fireglow Geranium Lily Lovell Geranium phaeum Samobor Geranium Phillipe Valpelle Geranium psilostemmon Geum Princess Juliana Gillenia trifoliata Hakonechloa macra Iris Dusky Challenger Iris Dutch Chocolate Iris Sultan's Palace Iris Superstition Iris Supreme Sultan Knautia macedonica Lavandula angustifolia Nepeta subsessilis Washfield Nepeta Walkers low Purple fennel - Giant Bronze Rodgersia pinnata Superba Rodgersia podophylla Salvia Mainacht Sedum matrona Stachys byzantina Stipa arundinacea (syn.Anemanthele lessoniana) Stipa gigantea Tulip Abu Hassan Tulip Ballerina Tulip Queen of Night Verbascum Helen Johnston I hope this helps. Helen Plant Doctor

Answered on 4/6/2010 by Crocus Helpdesk

Q:

Early May flowering Tulips

Hello! I am looking for some stunning early May flowering tulips to be planted for a wedding. I was hoping for a combination to go with a deep purple-black tulip. Do you have any suggestions regarding tulips that would flower for the start of May and hold their form if their was bad weather? I really appreciate your response. With regards, Peta

Asked on 9/30/2009 by Peta Samuelsson

1 answer
Displaying questions 1-2