Nymphaea 'Marliacea Albida'
water lily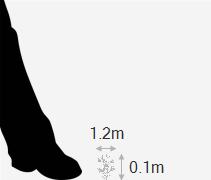 Position: full sun
Depth of water: 45-75cm (18-30in)
Rate of growth: average
Ultimate spread: 120cm (48in)
Height above surface: 0-10cm (0-4in)
Flowering period: June to September
Hardiness: fully hardy

A free-flowering variety that produces a profusion of fragrant, bowl-shaped, double white flowers with prominent yellow centres from June to September. 'Marliacea Albida' is the most popular white water lily in cultivation. Best planted at a depth of 45-75cm (18-30in), it needs plenty of space, so makes an excellent choice for a lake or large, deep, wildlife pond, where the dark green leaves create a shady underwater habitat for native fish and amphibians. The shade cast by the foliage also helps to check the spread of algae.


Garden care: Plant firmly in a hessian-lined aquatic planting basket filled with aquatic compost. Apply a 2.5cm (1in) top-dressing of pea shingle or gravel to prevent the top layer of the planting medium from clouding the water. The crown of the plant should protrude slightly above the surface of the planting basket. Raise the basket on bricks when the plant is young, gradually lowering them as the plant matures, so that the leaves float on the surface.


2 litre pot
within 2-3 days (exc weekends)
1 litre pot
within 2 weeks
Do you want to ask a question about this?
If so, click on the button and fill in the box below. We will post the question on the website, together with your alias (bunnykins, digger1, plantdotty etc etc) and where you are from (Sunningdale/Glasgow etc). We'll also post the answer to your question!
1 Question | 1 Answer
Displaying question 1
Q:

Water Lily care

Hi, I bought a miniature Water Lily for my husband for Christmas which I have received and am very happy with it. I would just like to ask, how do I look after it until Christmas day? Thank you Tricia

Asked on 12/7/2009 by Tricia Black

1 answer

A:

Hello Tricia, You should remove all the packaging and leave it in a large tub or bucket of water in a sheltered spot in the garden until the big day. I hope this helps. Helen Plant Doctor

Answered on 12/8/2009 by Crocus Helpdesk
Displaying question 1