Magnolia grandiflora
bull bay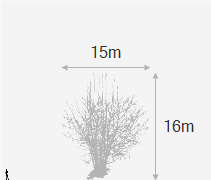 There is nothing quite as deliciously decadent than burying your face in the wondrous, great waxy-bowled blooms, stained with raspberry-streaked interiors and inhaling deep draughts of its clean vanilla-lemon scent



Position: full sun or partial shade
Soil: any moist, well-drained soil, including chalky
Rate of growth: slow-growing
Flowering period: August to September
Hardiness: fully hardy

An impressive, evergreen tree with leathery, dark green, glossy leaves with rust-coloured hairs underneath. In late summer and early autumn, large, fragrant, pure white, goblet-shaped flowers open from upright, woolly buds at the end of the shoots. This tree looks magnificent grown as a wall shrub, or as a large specimen tree in a sheltered spot. This variety is tolerant of chalky soils.


Garden care: Plant in a sheltered spot, away from strong winds. Requires minimal pruning. Remove any broken, diseased or crossing branches in spring. The best time to plant is in April, adding plenty of peat to the planting hole, in a sheltered spot. Mulch in spring with manure or leafmould, especially on dry soils.


Do you want to ask a question about this?
If so, click on the button and fill in the box below. We will post the question on the website, together with your alias (bunnykins, digger1, plantdotty etc etc) and where you are from (Sunningdale/Glasgow etc). We'll also post the answer to your question!
11 Questions | 15 Answers
Displaying questions 1-10
Previous | Next »
Q:

Will Magnolias survive really cold winters

Thank you for the information on Magnolias. However, we live 1000 ft above sea level in Mid-Wales and had temperatures in January 2010 down to Minus 16C. Can I really grow Magnolias in our situation? Margaret

Asked on 4/14/2010 by DerekandMaggie Parker

1 answer

A:

Hello Margaret, The Magnolias we sell are fully hardy in most areas of the UK, however the best indication of what will grow in your area is to see what is already there. Alternatively if you really get blasted by wind or freezing temperatures and you want plants that usually won't tolerate these conditions, then perhaps you need to create a shelterbelt, which will produce a microclimate. I'm sorry not to be more help. Helen Plant Doctor

Answered on 4/15/2010 by Crocus Helpdesk

Q:

Magnolia grandiflora compost?

Hello I have a Magnolia grandiflora which my husband has just repotted in ericaceous compost. Is this right? He thought it was a Camellia even though it has a big label on it saying Magnolia grandiflora! Can you help - the leaves are yellowing a little and I am worried. Many thanks

Asked on 4/13/2010 by Eline Armstrong

2 answers

A:

Dear Helen Thank you very much for getting back to me so quickly. Enormous relief to know my Magnolia will be fine.

Answered on 4/14/2010 by Eline Armstrong

A:

Hello There, The Magnolia will be quite happy in ericaceous compost, but it will need a big pot and regular amounts of water for it to thrive. I hope this helps. Helen Plant Doctor

Answered on 4/14/2010 by Crocus Helpdesk

Q:

Bees in my lawn? Also Magnolia and Hydrangea advice please

Hi Can you please help? I have thousands, and thousands, of what looks like bees, with a black body and white striped head hovering and burrowing into my lawn - they burrow like ants. What are they? Also can you tell me which pink Magnolia or Hydrangea I can plant in my garden? (chalky, with some lime) or scented shrubs Thank you Marilyn

Asked on 4/13/2010 by Anonymous

1 answer

Q:

Magnolias - can I grow them in my soil?

Hello Crocus, I've always wanted a Magnolia in our garden, and several attempts have failed completely. Although I live in the Fens, we are on a loam outcrop, not the peat. If I put plenty of peat in the planting hole, and gave it a peat based mulch every year, would a Magnolia survive and flower? Your website is irresistible! Thanks Ann

Asked on 4/12/2010 by Ann Steward

3 answers

Q:

Will a Magnolia grow in my clay soil?

Magnolias...............I would love to have a Magnolia in our front garden. We did try one a few years back but it didn't survive. Are they ok in any soil? Ours is clay. Do they need full sunlight or will they tolerate some shade.? I would grow it in the lawn. Any advice on which of your gorgeous plants might suit us would be gratefully received. Many thanks Gill

Asked on 4/12/2010 by G LUMSDON

2 answers

A:

........But is there a variety that will grow on my heavy alkaline soil? Thanks Gill

Answered on 4/13/2010 by Crocus Helpdesk

A:

Hello Gill, Some Magnolias need neutral to acidic soil to thrive, while others are more tolerant of lime. They don't mind clay soil at all as long as it is not too heavy or waterlogged for any length of time. They flower best in full sun, but are tolerant of a little light shade. If you are growing it in a lawn, it will be really important that you make sure the grass is kept well away from the main stem and that it is kept well watered. I am not really sure which one would be best for your garden as they all tolerate clay soils, but we do have a lot more detailed information about each ones needs on the individual plant cards. I hope this helps.

Answered on 4/13/2010 by G LUMSDON

Q:

Magnolia tree pruning

Greetings, We have a very mature Magnolia tree which grows from five thick stems (6 inches across) from ground level. The canopy starts from 4 feet and it has grown now 20 feet. It flowers well and often has a second flowering in September. It is a well known tree in our rural area. Can I prune the tree down to six feet in height with the hope it will send up sapling growth and then I would be able to control the height from ground level as now owing to heath problems I am not allowed to use step ladders. In anticipation --much appreciation.

Asked on 9/20/2009 by Dick Brown

1 answer

A:

Hello There, It can be risky, but many Magnolias will slowly recover from being cut back hard, although it will take a few years to regain its composure. If you have a spring flowering type, then the best time to tackle this is in mid summer after the flowers have faded. It is important that you do not prune them from late winter to summer as they are prone to 'bleeding'. I hope this helps. Helen Plant Doctor

Answered on 9/21/2009 by Crocus Helpdesk

Q:

Choosing the right plant

Hello, I'm trying to find a suitable plant for my back garden, its south facing and its a clay soil. We live in a new build house so are overlooked. The plants are for at the bottom of the garden away from the house so we want plants that will give us privacy. I have been looking on your website but can't choose what to have. I am thinking that a Magnolia would be nice but I am not sure which one to choose. As I have no other plants in my garden, this will be the focal point for a while! Any help would be appreciated. Thanks Samantha

Asked on 9/14/2009 by Samantha Walsh

1 answer

A:

Hello Samantha, I love all the Magnolias, but the ones with the cup-shaped flowers are my favourite. Magnolia Susan is relatively compact and has lovely dark coloured flowers - just click on the following link to go straight to it.

http://www.crocus.co.uk/plants/_/shrubs/magnolia-susan/classid.4143/

If your soil is not strongly acidic or alkaline (you can check this with a simple test kit which we sell) then I would check the information on our site and pick one of the Magnolias that you like the look of best. I hope this helps. Helen Plant Doctor

Answered on 9/14/2009 by Crocus Helpdesk

Q:

Pruning the dark flowering variety of Magnolia bush

Hello Crocus, I am making enquiries for a friend who has a Magnolia, as stated in the subject line its bush type with dark flowers and would like to know how to prune it. It's got a wide girth and started to spread over the path. I have not seen it myself and I only know of the tree with white/pinkish flowers. Hoping you can advise and thank you for time and trouble. Kind Regards, Albert

Asked on 8/17/2009 by Albert Holmes

1 answer

A:

Hello Albert, These plants really don't require any pruning, apart from removing wayward or crossing branches in late winter or early spring. I hope this helps. Helen Plant Doctor

Answered on 8/17/2009 by Crocus Helpdesk

Q:

Size of your Magnolias please?

I'm thinking of buying a magnolia from you and would like to know roughly how tall it would be when delivered. Your site provides the final size but not the size on delivery, only the pot size.

Asked on 3/26/2007 by GallagherGH@aol.com

1 answer

A:

It will really depend on the variety as some are naturally more vigorous than others, but as a very general rule, the 3 litre Magnolias are approximately 25 - 30cm in height, while the 5 litre Magnolias will be roughly 50 - 80cm tall.

Answered on 3/27/2007 by Crocus

Q:

Why isn't my Magnolia flowering?

I planted a Magnolia stellata 4 yrs ago. It has flowered every year so far, but has not produced flower buds this year - only leaves. It is in a fairly sheltered location, with poor, sandy soil which has been well-improved with organic compost and mulch. Any ideas ?

Asked on 4/18/2005 by Andy Bills

1 answer

A:

If the plant gets plenty of sun, then it sounds like the plant just needs a really good feed to help encourage new growth and flower buds. You do need to mulch the plant every year with organic matter, and a feed in spring with a slow-release general fertiliser will help too. A little extra potash (sulphate of potash) in spring will also help encourage flower formation, while in autumn you can feed with bonemeal to help encourage good root growth. Don't forget to keep the plant well watered too in dry weather.

Answered on 4/19/2005 by Crocus
Displaying questions 1-10
Previous | Next »
Many shrubs, trees and climbers are showing signs of growth and so it is an ideal time to check them over for winter damage. If you feel they need a little care and attention, here are a few notes to use as a pruning guide during April.
Read full article