Lonicera henryi
honeysuckle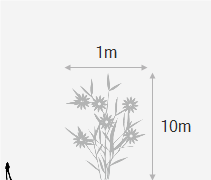 Position: full sun or partial shade
Soil: fertile, humus-rich, moist, well-drained soil
Rate of growth: average to fast-growing
Flowering period: June to July
Hardiness: borderline hardy (may need winter protection)

Purplish-red, tubular flowers with yellow-throats, smother this honeysuckle in June and July and are often followed by small, shiny, black fruits. The handsome, tapered, glossy, dark green leaves are retained all year, so this vigorous variety is ideal for covering a pergola, arch or boundary wall. It is happy in partial shade.


Garden care: Cut back established plants after flowering, removing a third of the flowering shoots. Apply a generous 5-7cm (2-3in) mulch of well-rotted compost or manure around the base of the plant in early spring.


Do you want to ask a question about this?
If so, click on the button and fill in the box below. We will post the question on the website, together with your alias (bunnykins, digger1, plantdotty etc etc) and where you are from (Sunningdale/Glasgow etc). We'll also post the answer to your question!
6 Questions | 7 Answers
Displaying questions 1-6
Q:

Advice on climbers please

Hi, I need to find climbing plants for the length of a 2m high wood panel fence with concrete posts. I haven't measured the entire length but I would estimate around 15m. It is South facing and on a side of the garden that gets a lot of sun in the summer, the soil is clay and tends to dry out. I have no idea how many plants I would need to cover the entire fence (I am notoriously bad at judging the spread of a plant and always end up with an overcrowding problem). I am looking for something to deter anyone from climbing over the fence, yet ideally something that won't be treacherous to deal with myself (if such a plant exists!). Climbing roses are the first to spring to mind and if I were to go down that route I would definitely opt for white or cream flowers. I have had a look at the white climbing roses on your site but am unsure whether they will be happy in our soil, as you specify 'moist, well-drained' humus rich soil. I would also like to get an evergreen climber for the rear fence (+/- 5m long). I am not concerned whether this flowers or not, and I am less concerned about this being a 'thief-deterrent'. The soil is the same,- lots of clay, which plants seem to like, but it is very hard to work with and dries out easily in the summer. Any advice gratefully accepted! Best regards, Heather

Asked on 3/12/2010 by Thuli

1 answer

A:

Hello Heather, Unfortunately there are no plants that will deter intruders without being difficult to deal with, and the best plants are those with thorns like the roses. It sounds like roses will certainly grow in your soil, but ideally you should dig in lots of composted organic matter and then make sure they are kept well watered in summer. It can be difficult to see a small plant and imagine how big it will grow to eventually, however we do give all this information on each plant card, which hopefully should help. You will find it just to the right of the pictures at the top of the pages. If you click on the following rose, you will see it has an eventual height and spread of 10 x 6 m

http://www.crocus.co.uk/plants/_/roses/climber-rose/rambling-roses/climbers/rosa-filipes-kiftsgate/classid.1280/

while this one will only grow to 3 x 2m

http://www.crocus.co.uk/plants/_/roses/climber-rose/climbers/climbing-roses/rosa-climbing-iceberg/classid.1181/

I would pick the one you like the look of and then you will be able to establish how many you need to fill your fence. As for the evergreens, if you click on the following link it will take you to our full range of evergreen or semi-evergreen climbers that will grow in clay soils, but the same rules apply re preparing the soil and watering.

http://www.crocus.co.uk/plants/_/climbers/plcid.15/vid.9/vid.228/

I hope this helps. Helen Plant Doctor

Answered on 3/12/2010 by Crocus Helpdesk

Q:

Plant for an east facing wall

Hi, Could you help me with the choice of plant for an east facing wall (it will get early morning sun). The wall is 8 foot high and 20 foot long. I liked the idea of a climbing Hydrangea but this appears to grow to 15 metres. Is there a similar evergreen plant that you could recommend? Many thanks Sue

Asked on 1/20/2010 by Sue Mather

2 answers

A:

Hi Helen Many thanks I think we will go for the Hydrangea Regards Sue

Answered on 1/20/2010 by Crocus Helpdesk

A:

Hello Sue, The Hydrangea is really quite slow growing and you can easily cut it back if it does get too big, so if you really like it, I would be tempted to go for it. Alternatively you could opt for one of the Loniceras or a Hedera, both of which can be trimmed back if they get over-large. I hope this helps. Helen Plant Doctor

Answered on 1/20/2010 by Sue Mather

Q:

Climber for South facing wall

Dear Sir/ Madam, I wanted to order a couple of climbers for a south facing wall. I already have a Virginia Creeper growing but the wall is concrete and looks terrible in the in winter. Have you got any recommendations for an evergreen climber that would grow well on a south facing wall, and also grow with a Virginia Creeper? Kind regards, Roland

Asked on 12/10/2009 by s8films

1 answer

Q:

Evergreen climbers for south facing pots

Hi, I have a south facing veranda which does get very hot in the summer. We are in the lee of a valley so pretty sheltered. I want to plant three evergreen climbers to go up the posts of the veranda and along the top of it. Please can you advise the best plants and also how big the pots should be and what compost they should go in. Thanks Rosemary

Asked on 10/13/2009 by Anonymous

1 answer

Q:

Plants to deter cats

Hello, my tiny terrace garden was recently made over at some expense but my 2 beloved moggies have ruined the one flower bed by using it as a loo-I am about to spend yet more money on having it cleaned up but how do I deter the cats from ruining it again? They are outdoor cats and use the catflap and there is nowhere indoors to put a litter tray anyway. Friends suggested several centimetres of woodchips? on the soil would put them off but I would value your advice before I invest. Also, which perfumed lilies are poisonous to cats?-or are they all? I am not thinking of poisoning the 2 moggies but I would like some lilies in pots but not if they are going to harm the cats. Also, suggestions of perfumed climbing shrubs that will stand shade. Many thanks Sonia

Asked on 7/23/2009 by Sonia Richardson

1 answer

Q:

Why don't the climbers flower

My aunt aged 83 has a Jasmine and Honeysuckle growing beautifully up an east facing wall getting plenty of warmth and sunshine. They were planted about 5 1/2 years ago. The Jasmine flowered briefly in its second year of growth but hasn't flowered since and the Honeysuckle hasn't bloomed at all. Both plants are very healthy in every other respect. Can you please advise.Thanking you in anticipation. Sarah

Asked on 6/14/2009 by Sarah King

1 answer

A:

Hello there, The most likely cause is a lack of sun, although other factors could include pruning at the wrong time of the year, or not enough feed or water. If you want to give them a bit of a push, then feed them with Sulphate of Potash (following the manufacturers instructions).I hope this helps, Helen.

Answered on 2/28/2012 by helen.derrin
Displaying questions 1-6