Lavandula stoechas subsp. stoechas f. leucantha 'Snowman'
white French lavender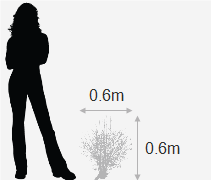 A tough white-flowered lavender with green heads studded in white, topped by green-veined white butterfly petals


Position: full sun
Soil: moderately fertile, well-drained soil
Rate of growth: average
Flowering period: June and July
Hardiness: borderline hardy (may need winter protection)

As the name suggests, this French lavender has spikes of pure white flowers, topped with distinctive white, butterfly-like tufts from late spring to summer and grey-green, aromatic leaves. It makes a striking feature planted en masse as a fragrant edging for a sunny, protected border, along a path or in a container. Like most French lavenders, this is earlier flowering than its English cousins, but associates well with them if you want to prolong the season of lavender in your garden. The flower-spikes are also a magnet for bees and other beneficial insects. In frost-prone areas it is best grown in a large container and over-wintered indoors.

As it's borderline hardy it is best grown in a container in colder areas of the country and should be over-wintered in a cool greenhouse or conservatory.

Garden care: Cut back the stalks after the flowers have faded to retain a compact shape. Carefully trim back in April, taking care not to cut into old wood.


Do you want to ask a question about this?
If so, click on the button and fill in the box below. We will post the question on the website, together with your alias (bunnykins, digger1, plantdotty etc etc) and where you are from (Sunningdale/Glasgow etc). We'll also post the answer to your question!
1 Question | 1 Answer
Displaying question 1
Q:

Do my French Lavenders need protection?

May I firstly thank you for the white French Lavenders I have just received - the packaging was fantastic so were the plants inside - definitely the best quality and best packed plants I have ever received. Could I please ask if it is possible for me to leave the plants in their existing pots for in my cold frame during winter, or will I be better re-potting or planting them in the garden.

Asked on 9/21/2006 by neal jepson

1 answer

A:

The Lavandula stoechas leucantha Snowman, is not quite fully hardy, so would be better kept in a pot and overwintered in the cold frame - unless you have a particularly sheltered garden with soil that does not get too heavy or wet in winter.

Answered on 9/22/2006 by Crocus
Displaying question 1
Many shrubs, trees and climbers are showing signs of growth, so it is an ideal time to check them over for winter damage. If you feel they need a little care and attention, here are a few notes to use as a pruning guide. during April.
Read full article
Aromatic plants produce their own fragrant oil and they use it as a sunscreen to prevent scorching, so anything aromatic or silvery needs full sun. Although drought-tolerant, these plants rely on a deep root system and once established they will never nee
Read full article