Iris 'Best Bet'
bearded iris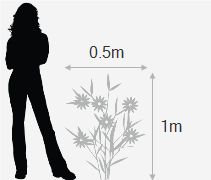 Position: full sun
Soil: well-drained, moderately fertile, neutral to acidic soil
Rate of growth: average
Flowering period: May and June
Flower colour: pale blue and deeper mauve
Other features: all parts of the plant may cause severe discomfort if ingested
Hardiness: fully hardy

Pale sky blue standards, form a beautiful contrast with the purple-blue falls of this lightly scented, tall bearded iris. Magnificent when planted in drifts through a sunny border, or incorporated into a gravel garden, these plants are invaluable for adding vertical interest to the planting scheme. Like all irises, it is worth preparing the soil before planting by adding plenty of well rotted manure or good garden compost to provide nitrogen and other nutrients.


Garden Care: Plant shallowly with the upper part of the rhizome sitting on the surface of the soil, incorporating a low nitrogen fertiliser in the planting hole. After planting remove the upper-most third of the leaves to protect against wind-rock. In exposed areas stake with bamboo canes in early spring. Divide and replant about every three years.


Do you want to ask a question about this?
If so, click on the button and fill in the box below. We will post the question on the website, together with your alias (bunnykins, digger1, plantdotty etc etc) and where you are from (Sunningdale/Glasgow etc). We'll also post the answer to your question!
1 Question | 1 Answer
Displaying question 1
Q:

Iris Cliffs of Dover

Hi Crocus Advice please. All the Iris 'Cliffs of Dover ' appear to have died back to ground level is this normal for Irises and will they reappear next season? Thanks Chris

Asked on 8/29/2009 by Chris Greenshields

1 answer

A:

Hello Chris These plants do die back at this time of the year so I would not be concerned and then put on lots of new growth in spring. Best regards, Helen Plant Doctor

Answered on 9/1/2009 by Crocus Helpdesk
Displaying question 1
There are currently no articles for this item.