Foeniculum vulgare 'Giant Bronze'
fennel - bronze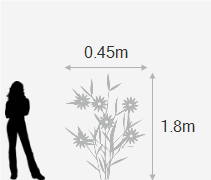 Smoke-bronzed swirls of aniseed-scented leaves topped with fragile umbels of dainty yellow flower provide a garden aromatherapy treatment - a sensation with red crocosmias


Position: full sun
Soil: fertile, moist, well-drained soil
Rate of growth: fast-growing
Flowering period: July to August
Hardiness: fully hardy

Fine clouds of feathery, bronze-purple leaves are followed by flat-topped, sulphur-yellow flowerheads in mid to late summer and then by aromatic seeds. This giant fennel looks fantastic as a centrepiece for a sunny herb garden, or among tall perennials and grasses. The foliage acts as a delicate veil through which the flower heads of herbaceous plants and bulbs can be seen.


Garden care: The plant's tendency to self-seed may be a problem in hot summers. If fennel is being grown exclusively for its foliage, remove the yellow flowerheads to prevent it from self-seeding. When flowers have finished them cut back to 30cm from the ground.


Do you want to ask a question about this?
If so, click on the button and fill in the box below. We will post the question on the website, together with your alias (bunnykins, digger1, plantdotty etc etc) and where you are from (Sunningdale/Glasgow etc). We'll also post the answer to your question!
2 Questions | 2 Answers
Displaying questions 1-2
Q:

2006 Planting Chelsea Flower Show enquiry

Hi, I see you have plants available for the current show, but do you have a plant list for the 2006 award winner (Daily Telegraph,Tom Stuart Smith) available as I am interested in buying some of these plants? Thank you for your time, Kelly

Asked on 4/5/2010 by kelly mackenzie

1 answer

A:

Hello Kelly, He did use a lot of plants in his garden - here is a list which includes most. Allium Purple Sensation Anthriscus Ravens Wing Aquilegia Ruby Port Astrantia Claret Carex testacea Cirsium rivulare atropurpureum Dahlia Dark Desire Euphorbia Fireglow Geranium Lily Lovell Geranium phaeum Samobor Geranium Phillipe Valpelle Geranium psilostemmon Geum Princess Juliana Gillenia trifoliata Hakonechloa macra Iris Dusky Challenger Iris Dutch Chocolate Iris Sultan's Palace Iris Superstition Iris Supreme Sultan Knautia macedonica Lavandula angustifolia Nepeta subsessilis Washfield Nepeta Walkers low Purple fennel - Giant Bronze Rodgersia pinnata Superba Rodgersia podophylla Salvia Mainacht Sedum matrona Stachys byzantina Stipa arundinacea (syn.Anemanthele lessoniana) Stipa gigantea Tulip Abu Hassan Tulip Ballerina Tulip Queen of Night Verbascum Helen Johnston I hope this helps. Helen Plant Doctor

Answered on 4/6/2010 by Crocus Helpdesk

Q:

When should I plant bronze fennel?

I would like to plant some fennel in a sunny part of my garden. I see from your website it will be available to buy within the next two weeks. Is this the right time to plant it or should I wait until spring?

Asked on 11/9/2004 by Edwina Dufton

1 answer

A:

As this plant is fully hardy you can plant it at any time throughout the year as long as the ground isn't frozen or waterlogged. Autumn is a good time to plant as the soil temperatures are still quite warm. This means that the roots have a chance to settle in and spread a little before the worst of the weather hits, and that means bigger and better growth next spring. Keep in mind though that at this time of the year it will be cut right back, but it will start to grow again in spring.

Answered on 11/9/2004 by Crocus
Displaying questions 1-2