Dichelostemma congestum
congested snake lily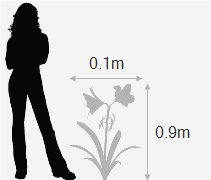 Position:
full sun
Soil:
well-drained soil
Rate of growth:
average
Flowering period:
May to June
Hardiness:
frost hardy (may need winter protection in colder areas)

Tightly packed clusters of lilac-blue, tubular flowers, form at the tops of the tall, upright stems in early summer, just as the grass-like foliage is starting to die back. Thriving in a sheltered spot with plenty of sun and freely draining soil, it works well in both a herbaceous border or prairie style setting.


Garden care:
Plant corms 10cm deep in autumn in well-drained soil. Keep dry after flowering and apply a generous layer of insulating mulch around the crown in autumn to keep it warm. In colder areas, it may be best to pot it up so it can be over-wintered in a cool greenhouse.


Do you want to ask a question about this?
If so, click on the button and fill in the box below. We will post the question on the website, together with your alias (bunnykins, digger1, plantdotty etc etc) and where you are from (Sunningdale/Glasgow etc). We'll also post the answer to your question!
1 Question | 1 Answer
Displaying question 1
Q:

I would like to know how this lovely flower does as a cut flower - I'm stocking my new cutting garden and would love to include it if it's suitable, thanks.

Asked on 10/24/2013 by Lizan from Kent

1 answer

A:

Hello there

Yes I believe this flower works well as a cut flower.

Hope this helps

Answered on 10/25/2013 by Georgina from Crocus
Displaying question 1
If rabbits, deer, squirrels or cats devour or scratch up your plants these wire mesh protectors will give them time to get established. The pyramid-shaped 'Rabbit Proof Cloche' and dome-shaped 'Squirrel Proof Cloche'
Read full article