Cyclamen hederifolium
sowbread (syn. Cyclamen neapolitanum )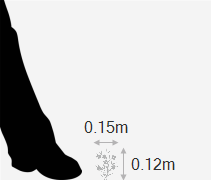 Autumn-flowering cyclamen signalling the end of summer with their swept-back flowers on straight stems - the marbled foliage follows and persists through winter

Position: full sun to partial shade
Soil: humus-rich, well-drained soil
Rate of growth: average
Flowering period: October to November
Hardiness: fully hardy

With their pretty, marbled, heart-shaped leaves and upright, fragrant pink or white flowers, these cyclamen have a long season of interest before disappearing below ground over the summer. The flowers of this autumn-flowering cyclamen often appear well before the leaves, which form a pretty carpet after the flowers have finished. Although they are usually planted in shade, these cyclamen originate from the Mediterranean, so are equally happy in sun. Plant them en masse in a woodland setting with ferns and other shade-tolerant plants or around the base of deciduous trees.


Garden care: Plant shallowly in humus-rich, fertile soil. Apply a mulch of well-rotted leafmould around the crown of the plants in spring as the foliage starts to die back.
Why is it that the majority of gardens look their best during spring only to turn dull and lifeless for the rest of the year? It's partly because spring is when most gardeners buy new plants and partly because too...
Read full article
Bulbs are ideal for anyone who rates themselves as 'keen-but-clueless' because they are one of the easiest plants to grow. Provided you plant them at the right time of year at more or less the right depth, they will reward...
Read full article