Clematis montana var. rubens 'Pink Perfection'
clematis (group 1)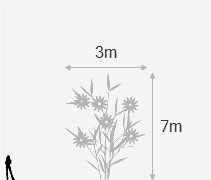 Position: full sun or partial shade
Soil: fertile, well-drained, neutral soil
Rate of growth: fast-growing
Flowering period: May and June
Flower colour: pink
Hardiness: fully hardy

Sweetly scented, pink flowers in May and June amid purple-flushed, mid-green leaves. This vigorous, deciduous clematis is ideal for covering a wall or fence in sun or partial shade. Since it often outgrows the space intended for it, for a small garden we'd advise the less-vigorous Clematis montana var. rubens 'Freda'.


Garden care: No routine pruning is necessary. If the spread of the plant needs to be restricted prune immediately after flowering, cutting back overlong shoots to healthy buds. Apply a slow-release balanced fertiliser and a mulch of well-rotted garden compost around the base of the plant in early spring.
Do you want to ask a question about this?
If so, click on the button and fill in the box below. We will post the question on the website, together with your alias (bunnykins, digger1, plantdotty etc etc) and where you are from (Sunningdale/Glasgow etc). We'll also post the answer to your question!
2 Questions | 2 Answers
Displaying questions 1-2
Q:

Vigorous climbing plants

Hi, I am looking for rapid growing climbers (evergreen and non-evergreen) that I can grow through trees without harming the host trees. The planting site is as follows:- -East facing but ultimately the aerial part of the growth will be facing west - Shaded at the base where the young plant will be started i.e.roots in shade but tip of young plant showing above adjacent hardstanding car park - Moist well draining soil Can you recommend some varieties? Many thanks, Roger

Asked on 4/12/2010 by Roger Pirrie

1 answer

Q:

Clematis montana var. rubens 'Pink Perfection'- evergreen?

Hi, Just a quick query regards Clematis montana var. rubens 'Pink Perfection', is this an evergreen species or is there a variant that is? Many thanks, Regards, Shaun

Asked on 11/20/2009 by Anonymous

1 answer
Displaying questions 1-2