Clematis × triternata 'Rubromarginata'
clematis (group 3)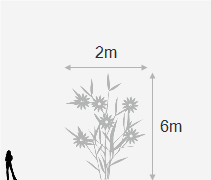 Position: full sun or partial shade
Soil: fertile, well-drained, neutral soil
Rate of growth: fast-growing
Flowering period: July to September
Flower colour: rosy-purple
Other features: bright green to grey-green leaves; the flowers are followed by silky, white seed-heads
Hardiness: fully hardy

Masses of delicious, marzipan-scented, rosy-purple flowers fading to white at the base of the petals from July to September. This vigorous, late flowering clematis looks lovely scrambling over a garden wall, pergola or arch in full sun or partial shade. Plant near entrances or paths, where the fragrance can be appreciated.


Garden care: In early spring cut back the previous year's stems to a pair of strong buds about 15-20cm (6-8in) above ground-level and apply a slow-release balanced fertiliser and a mulch of well-rotted garden compost around the plant, avoiding the immediate crown.


Do you want to ask a question about this?
If so, click on the button and fill in the box below. We will post the question on the website, together with your alias (bunnykins, digger1, plantdotty etc etc) and where you are from (Sunningdale/Glasgow etc). We'll also post the answer to your question!
2 Questions | 2 Answers
Displaying questions 1-2
Q:

Is this the same plant as Clematis Aromatica? This variety was on my Wish List but it has recently disappeared completely and this is the only one now listed that matches it in terms of appearance, scent etc.

Asked on 8/17/2013 by Lotty from York

1 answer

A:

Hello there

Unfortunately we don't sell Clematis 'Aromatica' now but Clematis × triternata 'Rubromarginata' is very similar with the lovely scented flowers, but could grow larger to 6m x 2m approx eventually.

Hope this helps

Answered on 8/19/2013 by Georgina from Crocus

Q:

Vigorous climbing plants

Hi, I am looking for rapid growing climbers (evergreen and non-evergreen) that I can grow through trees without harming the host trees. The planting site is as follows:- -East facing but ultimately the aerial part of the growth will be facing west - Shaded at the base where the young plant will be started i.e.roots in shade but tip of young plant showing above adjacent hardstanding car park - Moist well draining soil Can you recommend some varieties? Many thanks, Roger

Asked on 4/12/2010 by Roger Pirrie

1 answer
Displaying questions 1-2