Camassia leichtlinii subsp. suksdorfii
camassia bulbs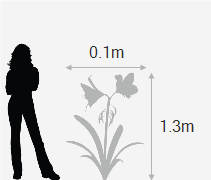 A narrow spire of purple-blue stars intensified by sulphur-yellow stamens suspended on pale anthers above the flowers. The cool-green buds and middles glow in shade.


Position: full sun or partial shade
Soil: moist but well-drained, fertile, humus-rich, soil
Rate of growth: average
Flowering period: May
Hardiness: half hardy
Bulb size: 14+

Loose spires of blue or lilac, star-shaped flowers appear on top of tall stems in late spring. Originally from damp meadowlands in North America, this bulbous perennial is perfect for naturalising in a wildflower meadow. It will happily grow in moist soil or partial shade as long as the soil doesn't become waterlogged. Take advantage of its brief flowering season to brighten up a border before summer perennials take over.


Garden care: Plant the bulbs 8cm deep and 20cm apart in big groups in the autumn. Try to plant them where they will remain for several years as they resent being moved. In cold areas, apply a generous layer of mulch in autumn.


There are currently no 'goes well with' suggestions for this item.
If rabbits, deer, squirrels or cats devour or scratch up your plants these wire mesh protectors will give them time to get established. The pyramid-shaped 'Rabbit Proof Cloche' and dome-shaped 'Squirrel Proof Cloche'
Read full article