Aquilegia canadensis
rock bells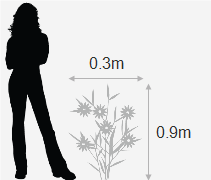 Position: full sun or partial shade
Soil: any well drained soil, including rocky soil
Rate of growth: average
Flowering period: April to June
Hardiness: fully hardy

In late spring, this pretty, wild columbine produces eyecatching, nodding coral-red and yellow flowers with showy 'spurs' that hang from slender stems. Its vivid green, graceful, fern-like, lacy leaves are a feature in themselves as they catch the breeze and seem to hover above the ground. This short-lived perennial is one of the easiest columbines to grow and will self-seed freely. Much tougher than it looks, it is native to North America and Canada where it grows on rocky outcrops and woodland. It looks best left to multiply in a natural setting, such as woods or meadows, where it can cope with dry conditions and rocky soil. Pollinating insects love it, too !


Garden care: Cut down faded flowers to the base in autumn. This is a short-lived perennial, that will only live for about 3-4 years, so it should be planted in a place where it be can allowed to set seed. You can dig up your new seedlings in autumn and replant them where you want, or just collect the seeds and scatter them in bare patches in the border. Contact with the sap may cause skin irritation. This aquilegia does not like wet, heavy soil.
CAUTION may cause skin allergy
Do you want to ask a question about this?
If so, click on the button and fill in the box below. We will post the question on the website, together with your alias (bunnykins, digger1, plantdotty etc etc) and where you are from (Sunningdale/Glasgow etc). We'll also post the answer to your question!
1 Question | 2 Answers
Displaying question 1
Q:

Growing plants for a wedding

Dear Crocus, I am a very happy customer ..... I love your site, plants and service. I learnt about you first from Arabella Lennox-Boyd. But now I am writing for some advice please. My sister is getting married in Oxfordshire on the last weekend of May. I would love to grow the flowers for the wedding. I have a big garden with empty beds and a green house at my disposal. Could you give me some advice on types of cut flowers that would be in bloom at the end of May? Some pointers as a place to start my research and buying would be fantastic. Thank you very much, Best wishes, Kate

Asked on 1/8/2010 by Kate Olivia Higginbottom

2 answers

A:

Thank you so much Helen - amazing! I'll send you photos of the finished results. Best wishes and thanks again, Kate

Answered on 1/8/2010 by Crocus Helpdesk

A:

Hello Kate, It will be a little hit and miss as a lot will depend on the weather, but the following plants should be in flower around that time. Choisya ternata

http://www.crocus.co.uk/plants/_/shrubs/choisya-ternata-/classid.825/

Osmanthus x burkwoodii

http://www.crocus.co.uk/plants/_/shrubs/osmanthus-%C3%97-burkwoodii-/classid.4171/

Syringa http://www.crocus.co.uk/search/_/search.syringa/

Viburnum x carlcephalum

http://www.crocus.co.uk/plants/_/shrubs/viburnum-%C3%97-carlcephalum-/classid.4460/

Convallaria majalis

http://www.crocus.co.uk/search/_/search.convallaria/ Iris

http://www.crocus.co.uk/search/_/search.iris/ Paeonia

http://www.crocus.co.uk/search/_/search.paeonia/ Euphorbia palustris

http://www.crocus.co.uk/plants/_/perennials/euphorbia-palustris-/classid.2794/

Aquilegia http://www.crocus.co.uk/search/_/search.aquilegia/

Ceanothus Skylark

http://www.crocus.co.uk/plants/_/shrubs/ceanothus-thyrsiflorus-skylark/classid.728/

and if we have a hot start to the summer a couple of roses or some of the earlier lavenders may have started too. I hope this gives you lots of ideas. Helen Plant Doctor

Answered on 1/8/2010 by Kate Olivia Higginbottom
Displaying question 1
These cottage garden essentials take their name from Aquila, Latin for eagle, because the nectar-rich spurs at the back of the flower resemble eagle's talons. Their other common name, columbine, is also related to a bird. If you turn the flowers upside d
Read full article