Agapanthus 'Purple Cloud'
African lily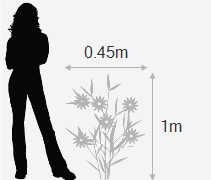 Position: full sun
Soil: fertile, moist, well-drained soil (or John Innes no. 3 compost for containers)
Rate of growth: average
Flowering period: July to August
Flower colour: violet-purple
Other features: excellent as cut flowers
Hardiness: half hardy (will need protection from frost in winter)

A compact cultivar raised in New Zealand, which produces larger than average flower clusters. The deep blue-purple buds are upright at first, but become pendulous as the violet-purple, trumpet-shaped flowers begin to open. Their intensely coloured flowers work well in bruised colour schemes and the rich green shade of the broad, semi-evergreen foliage creates a wonderful contrast.


Garden care: Apply a balanced liquid fertiliser monthly from spring until flowering. In cold areas, protect the crown of the plant with a deep, dry mulch to protect them from hard frosts, or grow in a pot so they can be overwintered in an unheated greenhouse. Divide plants in spring. Divide plants that have become too big in spring, but remember you will often get more flowers when the roots are constricted.


2 litre pot
within 3 days (exc weekends)
2 litre pot
within 3 days (exc weekends)