Abelia × grandiflora
abelia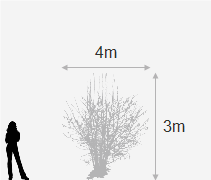 You can hunt around the garden for some time before you realize that delightful unexpected draught of sweet perfume that keeps catching you by surprise, emanates from its dainty, white-stained- pale pink flowers
Position: full sun
Soil: fertile, well-drained soil
Rate of growth: fast-growing
Flowering period: June to October
Hardiness: borderline hardy

A useful, long-flowering, semi-evergreen shrub for a mixed border. This abelia has attractive, glossy, deep green leaves which it hangs on to for most of the year. From June, it produces masses of small, fragrant, pink-flushed, trumpet-like flowers on arching branches that go on all summer. As it's slightly tender, it's best grown in the shelter of a wall, towards the back of a border. Ideal for a cottage-style garden.


Garden care: Deadhead regularly to prolong flowering. In autumn after flowering, lightly trim back the flowered shoots to retaina neat and tidy shape. Remove any dead or damaged wood in April.
Do you want to ask a question about this?
If so, click on the button and fill in the box below. We will post the question on the website, together with your alias (bunnykins, digger1, plantdotty etc etc) and where you are from (Sunningdale/Glasgow etc). We'll also post the answer to your question!
2 Questions | 2 Answers
Displaying questions 1-2
Q:

Abelia for screening the bottom of a small garden?

Hi, hope you can advise me on some plants. I have a small garden, and would like some plants to screen the bottom of my garden from neighbours and I like the look of Abelia ?? grandiflora. Is this plant easy to care for as I am no gardener? The space where I am hoping to put the plant is 12 foot long x 2+ foot width so I as thinking of putting two in this space. Do you think that there is enough space for any other small shrubs or would you just keep to the two Abelia ?? grandiflora? Look forward to hearing from you with your advice. Kindest regards Wendy

Asked on 3/18/2010 by Anonymous

1 answer

A:

Hello Wendy, Abelia is a beautiful shrub that is hardy in all but the coldest gardens, and it is very easy to look after. If you are wanting to create a hedge effect with it, then I would be tempted to plant 3 of these and after they become established they will form a dense screen. Even planting two will eventually fill the space completely but it will take a few years. I hope this helps. Helen Plant Doctor

Answered on 3/18/2010 by Crocus Helpdesk

Q:

Plants suitable for patio pots

Hello I wanted to enquire if you have a Sarocococca hookeriana var. humilis, I looked online but it's not listed. I am askng for that particular plant, because I only have a patio and want plants that won't grow to an enormous size or require spectacular care. A rosemary and a dwarf syringa I bought from you are doing very well. Plants always arrive in very good condition which I really appreciate. A Myrtus communis subsp. 'Tarentina' which I potted up immediately in a larger pot suffered shock I think, - I wonder what you know about this myrtle? I am wanting to grow plants on a small patio in containers and wonder if the following plants are suitable:- Sarcococca hookeriana var. humilis (if you have got it) or a Sarcococca hookeriana digyna (which is in your listings). Winter Jasmine, or any of the other Jasmines, Wintersweet, Witchhazel, Abelia grandiflora but would this be too large for my patio- I am thinking of winter cheer with its red berries, and Nandina Domestica. Many thanks Bernadette

Asked on 7/26/2009 by Bernadette Matthews

1 answer

A:

Hello Bernadette, I'm afraid we do not sell Sacrocococca hookeriana var. humilis, but the other two we list will be fine in a large pot as long as they are kept well fed and watered. It is my experience that most plants will cope if the pot is big enough and they are well looked after, however larger plants like the Jasminum nudiflorum, Wintersweet, Witchhazel, Abelia or Nandinas will eventually run out of steam and need to be placed into the garden. You should however be able to get a good few years from them. As for the Myrtus, I have not heard that they particularly dislike being moved, but as they are not fully hardy they need protection in winter. I hope this helps. Helen Plant Doctor

Answered on 7/27/2009 by Crocus Helpdesk
Displaying questions 1-2